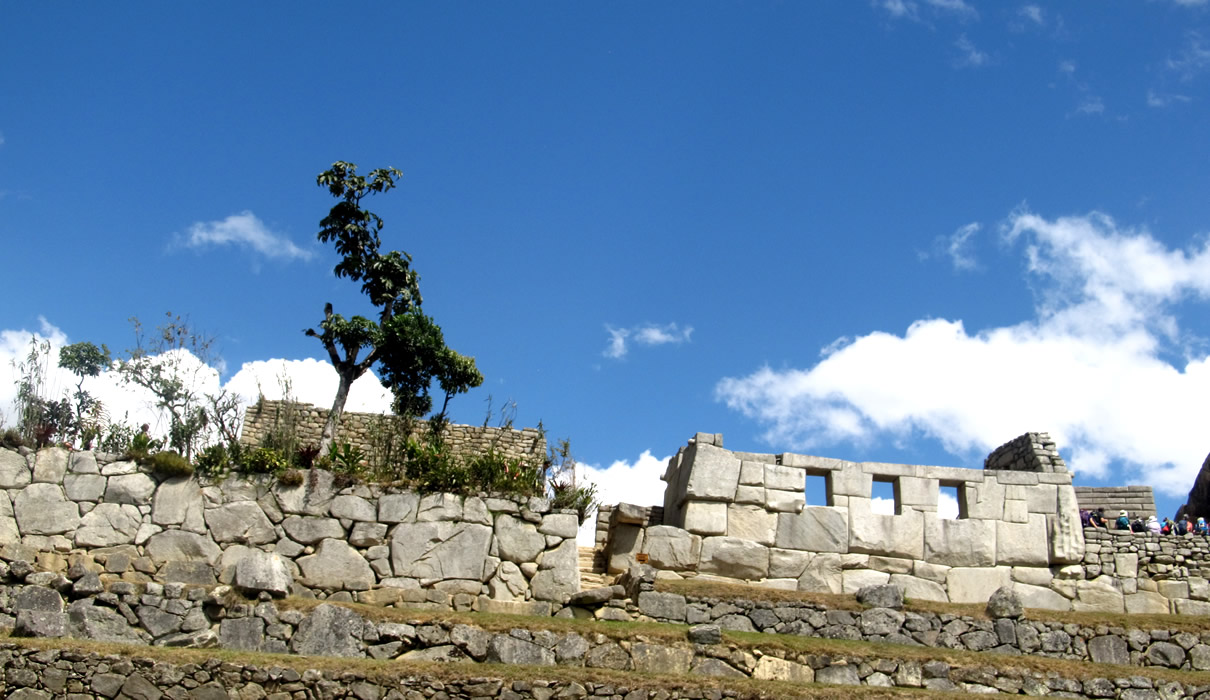 Salcantay trek short version to Machupichu is organized exclusive for people with limit time looking for nice hike and amazing views of the real Andes and the high jungle around Machupichu.This short version of Salcantay trek is considerate one of the best option for hike through remote villages and snowy mountain of Salcantay and humantay. Also this trek combines the drastic change of nature and the scenery.
Itinerary:

Day 1: Cusco _ Mollepata _ Soraypampa
At 6 am we will pick up from hotel and private transfer to the town of Mollepata (2900m) where we will arrive approximately at 9am to have breakfast. On the way from Cusco to Mollepata you see amazing panoramic views of Salcantay snowpeak and the third deepest canyon named Apurimac. On Mollepata we will mee the second camp staff (horsemen, cook, horses or mules, etc), after we fix our personal gear, food anb camping equipment in the horses we will begin the trekking toward Sayllapata (3210m). The trek goes through stony trail crossing springs, small canyons and fully of bushes.
Day 2: Soraypampa _ Challway
Today you will see how the nature changes drastically from dry sceneries to snowy peaks and tropical areas. After a nutritious breakfast, we will start the most difficult part of the trek. We will start the hike around 7am in the morning. We will hike to a place called Pampas Salcantay, then go toward the left side of the snowpeak of Umantay located next to the Apu Salkantay. At midday, we will be on the highest point (4600m). We will appreciate spectacular views of the mountains and the imposing snowy peaks of the Salkantay (6260m) which is known as the second highest point of the Cusco region.
Day 3: Chaullay – La Playa.
(sahuyaco).- After breakfast we descend for an five hours more to the high jungle (known in Spanish as the eyebrow of the jungle, enjoying the landscapes which offer us much natural beautiful. We cross the river and as we are walking along the left hand side of the river "alto Salcantay") to the "eyebrow of the jungle", where we can see orchids, bromeliads, typical vegetation of the area and we will see different types of birds, insects and butterflies. In comparison to the previous days of the trek, this is easy walking as we descend slowly for 3 hours to la playa (2050m). As we lose altitude we will see citrus fruit trees, avocados, banana, and coffee plants. 5 hours hike to an altitude of 1900 metres / 6232 feet; after hiking we will get lunch in la playa, after that will get car to Santa Teresa.
Dia 4: Playa Sahuyaco – Hidroelectrica – Aguas Calientes.
You have two options here, depending on your interest and fitness. You should discuss each with your guide. You should also be aware that Salcantay is the second most touristic route in the Salcantay region and inevitably this means you will encounter other people (it's not a "wilderness"). Important note: the following options are decided by "group majority" – if you are joining a "trekkers wanted" group then decisions will be made by the group at your briefing or on the trail. An advantage of forming your own, private group is that you can nominate ahead of time which option you wish to select. 1. Will go in by car to Santa Teresa in there you will enjoy in the hot sprint (aguas calientes) and sleep in that place; in the next day commtinios walk to aguas calientes.
2. Adventurer's option. We leave early and climb for about three hours through the jungle before descending to the interesting, but largely covered ruins of Llactapata. Don't let your guide talk you out of this! Yes, its three hours climb, but it is also a very interesting introduction to Machu Picchu! Originally discovered by Hiram Bingham at the same time that he discovered Machu Picchu, modern day explorers Vincent Lee and Gary Ziegler recently established that these ruins are much bigger and more important than previously thought. From here we have our first view of Machu Picchu, in the saddle of the mountain opposite. We descend very steeply on a muddy track for two hours to the impressive Machu Picchu Hydroelectric System where we will have lunch and visit an Inca ruin. After this, we will walk for 2.5 hours more along the train tracks to arrive at the village of Aguas Calientes.
3. We no include in the price of your tour a train ticket from the hydroelectric station to Aguas Calientes ($25) but the train leaves at 4: 30 pm, and you arrive in Aguas Calientes about one hour later, when you are transferred to your hotel. If you want to walk all the way to Aguas Calientes (Machu Picchu) its 2.5 hours more along the train tracks to arrive at the village of Aguas Caliente. Some people like this option, because it's the closest you can get to walking to Machu Picchu (apart from the actual Inca Trail) and it's also nice to walk along, looking up at the ruins of Machu Picchu. Other people prefer the train. You need to talk to your guide and decide what is the most appropriate option for you is. If you decide to walk along the tracks, your $18 pays for your duffel bags to go on the train.
Dia 5: Aguas Calientes – Machu Picchu – Cusco.
Early in the morning (before dawn) we will take a bus up to the ruins of Machu Picchu. (Bus included in price) so that you can appreciate this famous city in the dawn light and before the crowds arrive. You will then have a 2.5 hour guided tour of Machu Picchu with your guide. After your tour you can further explore the ruins by yourself or climb Huayna (WaynaPicchu) for that classic photo of Machu Picchu. (You need to specify if you would like to climb Huayna Picchu at the time of booking, it costs $10 extra) also try to fit in a visit to the temple of the moon or Huayna Picchu while visiting Huayna Picchu.
If you don't get to do Huayna Picchu, other options are:
1. Inti Punku (Gate of the sun) this is the location where the classic Inca trail arrives.
2. Inca Bridge
3. Machu Picchu Mountain.
We highly recommend walking down from Machu Picchu to get a feeling for the vegetation and also the audacity of its builders. It's a 1.5 hour walk back to the village of Aguas Calientes. We return to Cusco in the afternoon by the backpacker train (leaves either at 2.30pm or 6pm) and are met by a driver at Ollantaytambo who will transfer you directly back to your hotel. You will arrive in Cusco approximately 4 hours after your train's departure from Aguas.
Note.
Private departures are available on the dates of your choice. For more information and price writes to our:
info@huayhuashtrekking.com
/
huayhuashtrekking1@gmail.com
---
In the Price Includes:
Private Bus from Cuzco to marqocasa.
The tour adventure guide.
Cook. And assistant cook.
Horses for loading.
Saddle horses.
The passenger's haves 6 kg of valija.
Tent.
Kitchen tent.
Matras terma rest..
Food buffet 4bre/ 4/lunch 4/diner.
Train back to ollantaytambo.
The tour guide is came with passengers.
Private Bus from ollantaytambo to Cuzco.
Bus from aguas calientes to Inca side and aguas calientes.to aguas calientes.
Portable bathroom
---
Price does Not Include:
Hotel in aguas calientes.
Water on walk.
Sleeping back.
---
Recommendations: only for hiking
Passport original.
You take dress coat.
Rain jacket.
Sun cream
Sprite for mosquitos.
Torch.
Sleeping.
Cat and hot
Stick.
Kneepads.
Pills (for stomach pain; for headache).